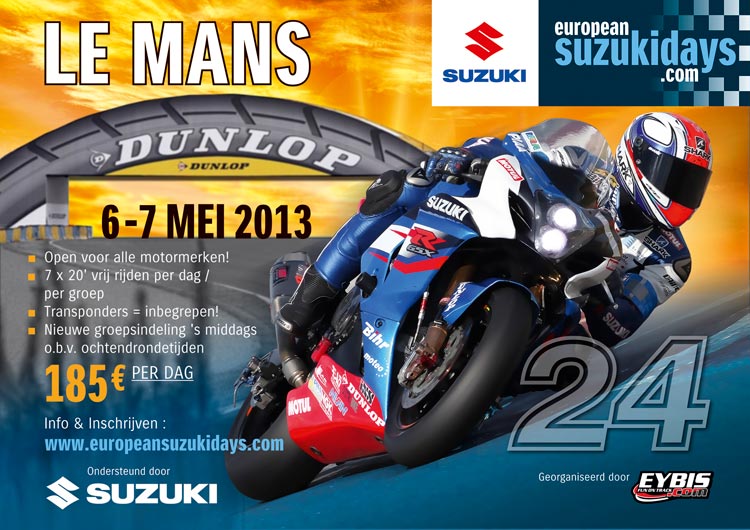 6 - 7 May 2013: EYBIS goes to a sunny LE MANS!
Practical guidelines
Click here for more practical info!
Weather forecast

SUNNY and DRY !!!

Still not enrolled?

Click here for the very last places!
Video from last year
Click here for a small video of 3' from our last year event @ LE MANS.
Special guests, test facilities, etc.
This event is one out of 4 EUROPEAN SUZUKI DAYS that EYBIS organises this year (open for all motorcycle brands), supported by SUZUKI France who has arranged the support and presence (!) of the following features, teams and riders:

The SERT (= SUZUKI Endurance Racing Team), reigning world champion endurance, with:
The SUZUKI Junior Team, with:
Air picture from the Bugatti circuit from LE MANS
click on the picture for a bigger version
Insurance
VERY IMPORTANT: make sure to have your "European Health Insurance Card" (EHIC) with you. By showing this card, people know - in the domain of health (and injury) insurance - that you're completely covered in your own country and that every other country, that is a member of the European Union, has to give you all the needed care.If you haven't obtained your card from your health care insurance, than :

apply for a card immediately;
if you cannot receive it in time, ask them to e-mail to you a "Provisional replacement certificate for the European Health Insurance Card" (= 1 page, and this can be done immediately);

A list of "Dangerous sports" that are excluded from "urgent medical care abroad". Usually, "racing with car / motorcycle / outboard engines" is listed. But as we do not "race", our activity is not excluded from any treatment. Check if this is also the case with your insurance, and if it is not, just be sure to get an insurance yourself.

EYBIS has not only a very good insurance as an organiser, but insures also - on every event - all participants with a good TPL (= third partie liability) insurance.

If you have a racing license from your national motorcycle council, be sure to bring it with you.
To bring
Motorcycle that is technically 100 % fit
Adapted motor equipment is mandatory for everyone:

leather motorsuit (one-piece is best, two-piece allowed)
BACK PROTECTOR (!)
motor boots
motor gloves
full face helmet

Identity card
Completed and signed waiver of responsability
Good humour, discipline, good-fellowship, fit body and a clear mind
Lodging, restaurants and "Office du Tourisme du Mans"
Click here.
Address Circuit
Circuit des 24 heures du Mans

Chemin de Laigné

72019 LE MANS

FRANCE
Routeplanner
Use our route-planner on the EYBIS.com Tracks-page.
Access to the Paddock
Is possible from Sunday 5 May 2012, from 7 PM. The pass code during our event is 5621#.

If entry would be possible earlier, we will twitter it. Follow us on Twitter!
Photographer
Warm-up Photo will be our photographer.
Pitbox
Boxes can be rent for 125 € / day.

There is internet access available in every box (included in the price; bring your own cable and/or router, because there is no WIFI).

Keys: Wednesday from 7 PM, and Thursday from 7.15 AM. We wil ask your ID card.
Meals - Drinks
There will be a lorry in the paddock where you can get sandwiches and small meals.
Tyre service
There will be a tyre service on site. Tel. + 33 6 75 13 80 31 for more information (French speaking).
Fuel
There is no fuel station in the paddock, don't forget your jerrycans!
click on the plan for a bigger version
click on the plan for a bigger version
click on the plan for a bigger version
Time table
Important remark: as there are only 2 x 5 Rookies enrolled, we will not keep a separated Rookie group.

The 2 x 5 Rookies wil, each with a privat coach per 5 Rookies, and with a special colored vest, ride in the Expert 2 group.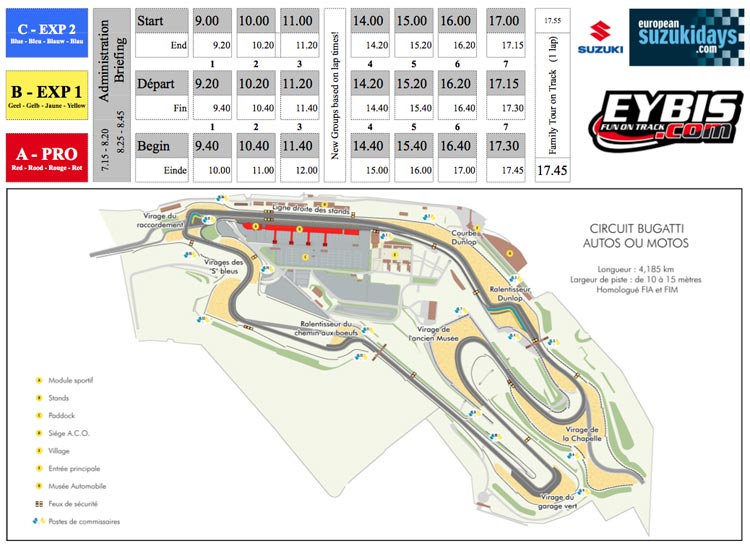 TIP: click on the time table to download it in pdf-format, print it and bring it along to the circuit
Lodging in the paddock
Is possible and allowed.

Showers are available, as well as power outlets and water connections.

Don't forget the blue European electricity connectors!

The sanitary facilities are painted blue, and are situatted in the centre of the paddock.
Administration - Technical Inspection - Sound
a. Enrolments - in the EYBIS tent / box 28 - 29
The day of the event from 7.15 AM.
(to bring : id-card & completed and signed waiver of reliability)
Download waiver of reliability
On site:
show ID & hand in completed and signed waiver of reliability

receive:

sticker with groups color for your bike
EYBIS sticker set
n° for on your bike
b. Technical Inspection - 'No' soundlimit !
Technical inspection will be done at random. Everybody is responsible for the good condition of his own motorcycle. Pay especially attention to :

Brakes, tyres, oil leakage a.o. cranckcase and front fork
Sound : normally any exhaust is allowed. Nevertheless take your dB killer or original exhaust (if you still have it), just to be sure. Noise becomes more and more often an issue, and officially, 102 dB is mentionned in our contract as the maximum level..

Equipment: motorboots, leather gloves, well-fitted full face helmet, BACK PROTECTOR and leather suit are mandatory. If the leather suit is a two-piece suit, both parts have to be fixed together firmly with a zipper.
Mandatory briefing at 8.30AM !
There a general mandatory briefing in Dutch, French, English and German at 8.30 AM in the pitlane @ box 28-29.
Tip for the EXPERT 2 - (blue) group: come to this briefing in your race-outfit and have your bike ready before the start of this briefing.
Almost immediately after the briefing, we start the sessions on the circuit.
Questions
If you have questions, do not hesitate to mail us at frank@eybis.com or give us a call at + 32 476 691 091.